Version Française disponible ici
In this post I will focus on one Trade setup used in sales orders which is the behavior of the Delivery Date Control when CTP is chosen. The Delivery Date Control manage the calculation of delivery date for sales order lines according to the policy chosen. There is several possibilities to choose:
None: nothing particular will happen and you will be asked to put the delivery date manually.
Lead time: you will specify a fixed lead time which will be taken into account to initialize the ship and receipt dates.
ATP: will consider what is available to promise according to the on-hand stock, the inbound and outbound within the time fence setup. That subject will deserve a full post even if there is some on internet.
ATP + issue margin: same as ATP with an additional day margin setup in the Master Plan.
CTP: literally Captable To Promise. This applies mostly on manufactured items and consider the route capacity but not only.
Have in mind one thing about the Delivery Date Control. This is a global setup done on the Account Receivable parameters (Shipment tab), but can be overridden by items through the defaults order settings.
Note : I found one interesting post on that topic but I wanted to complete it and adapt it to the last Dynamics 365 for Finance & Operations versions.
Requirement
As it combines Master planning setup and Production control setup we will have a look on what is required for CTP.
First, you will need to use one coverage group, with Delays activated. Obviously, you need to setup this coverage group as the default on the Master Planning main parameter or you need to setup this particular coverage group to the items you will use in your tests.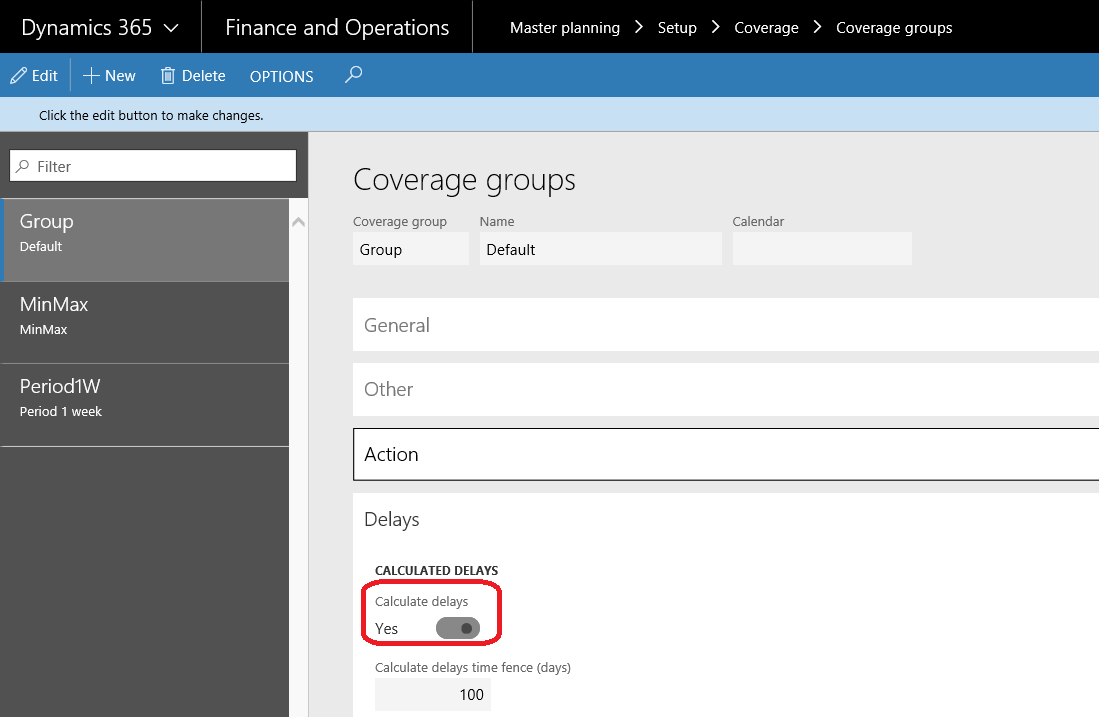 The next step is to setup one Master Plan, and to default the Current dynamic master plan with it. Dynamics master plans usage is detailed in this post.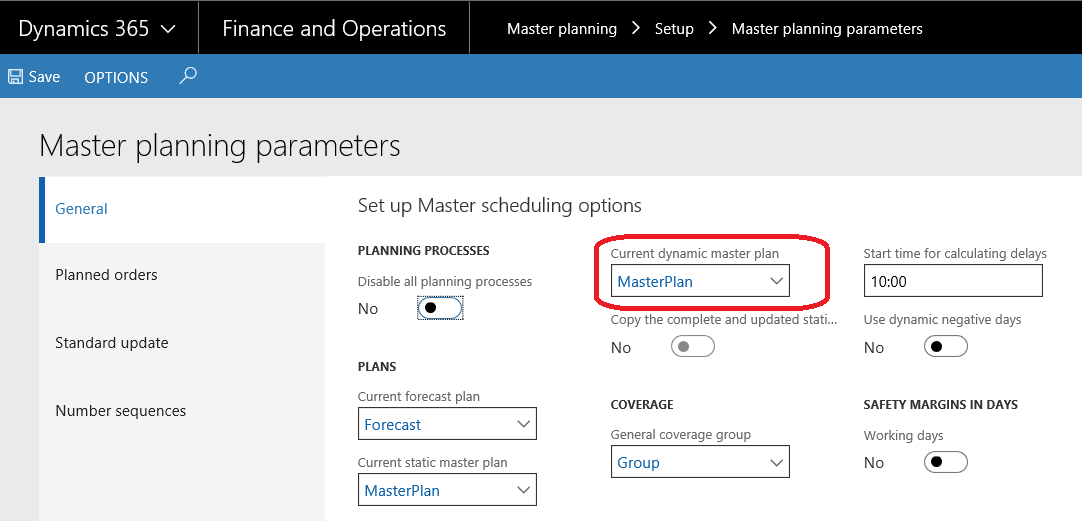 Setup components
For this demo I will use one manufactured Item and 2 component items: ITEM-CTP-YR is manufactured with one ITEM-A and one ITEM-B.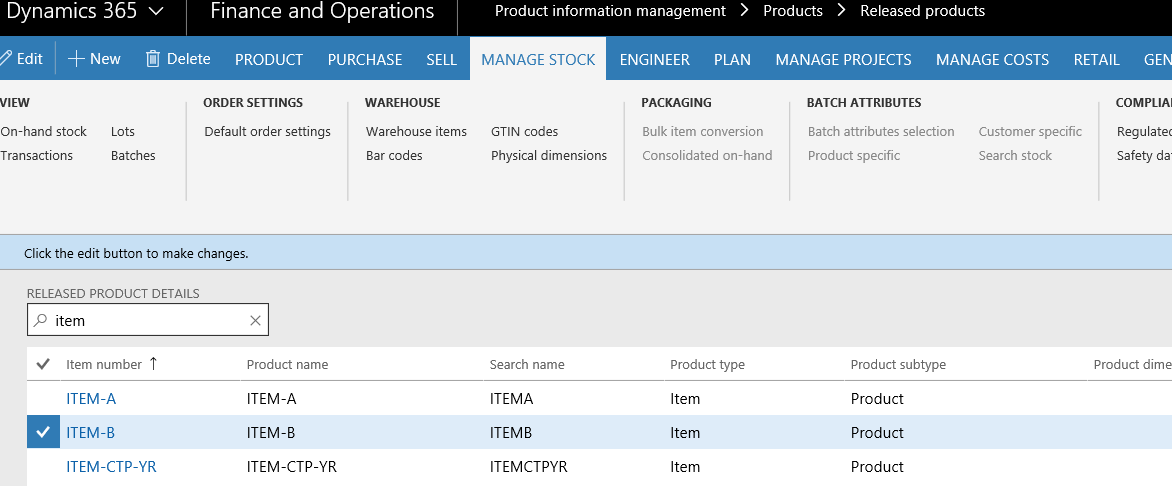 Setup manufactured item
As CTP applies essentially for manufactured item, you need to setup one (ITEM-CTP-YR for my example). Some production setup needs to be done.
Let's start with the resource groups.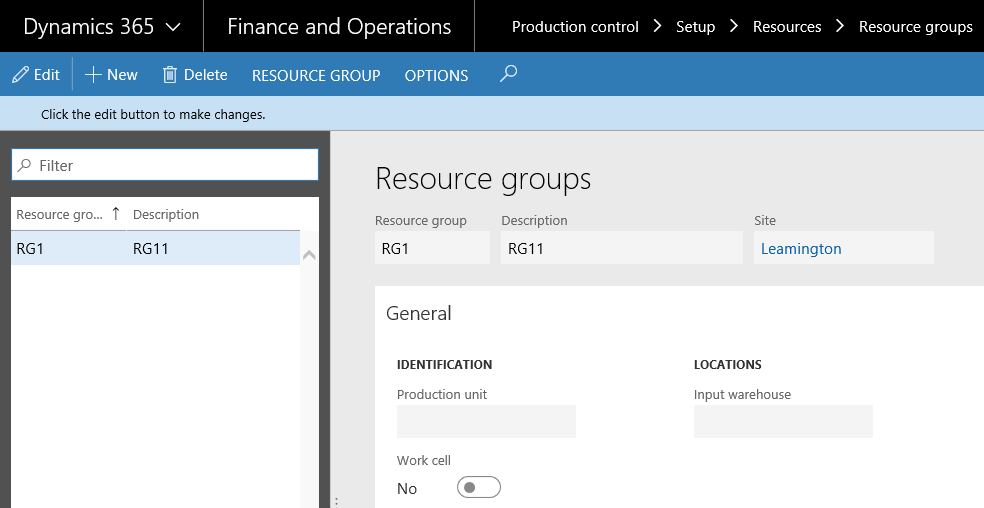 Then, you also will need one calendar with working times associated. Here we notice the company is working 7:30 hours per day, from Monday to Friday.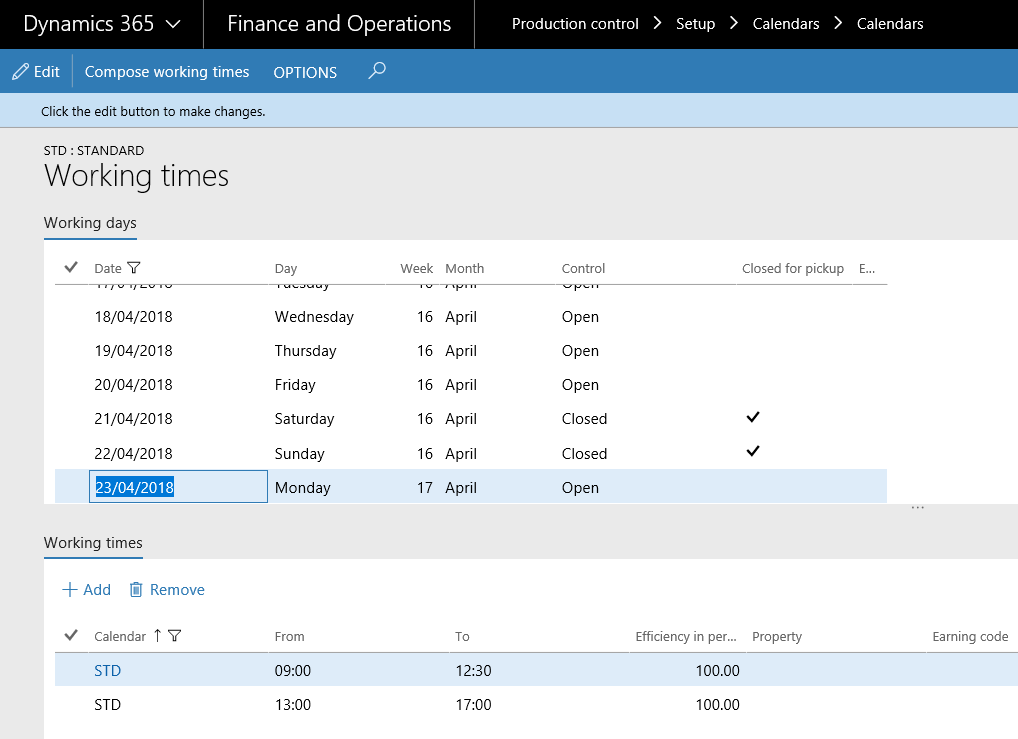 You need to setup a resource, working on the previous calendar and linked to the previous resource group.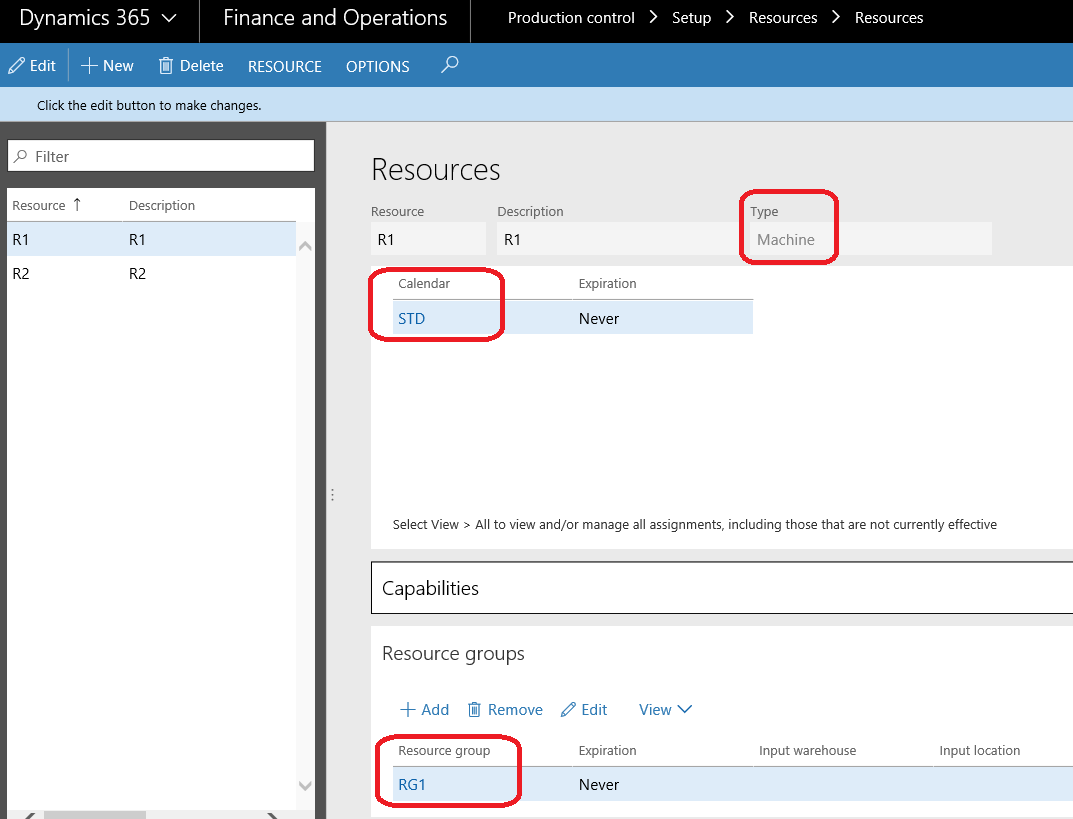 Then, I create the manufactured released product. On the default order setting, don't forget to setup the item as a Production one, and override the Delivery date control with CTP on the sales tab.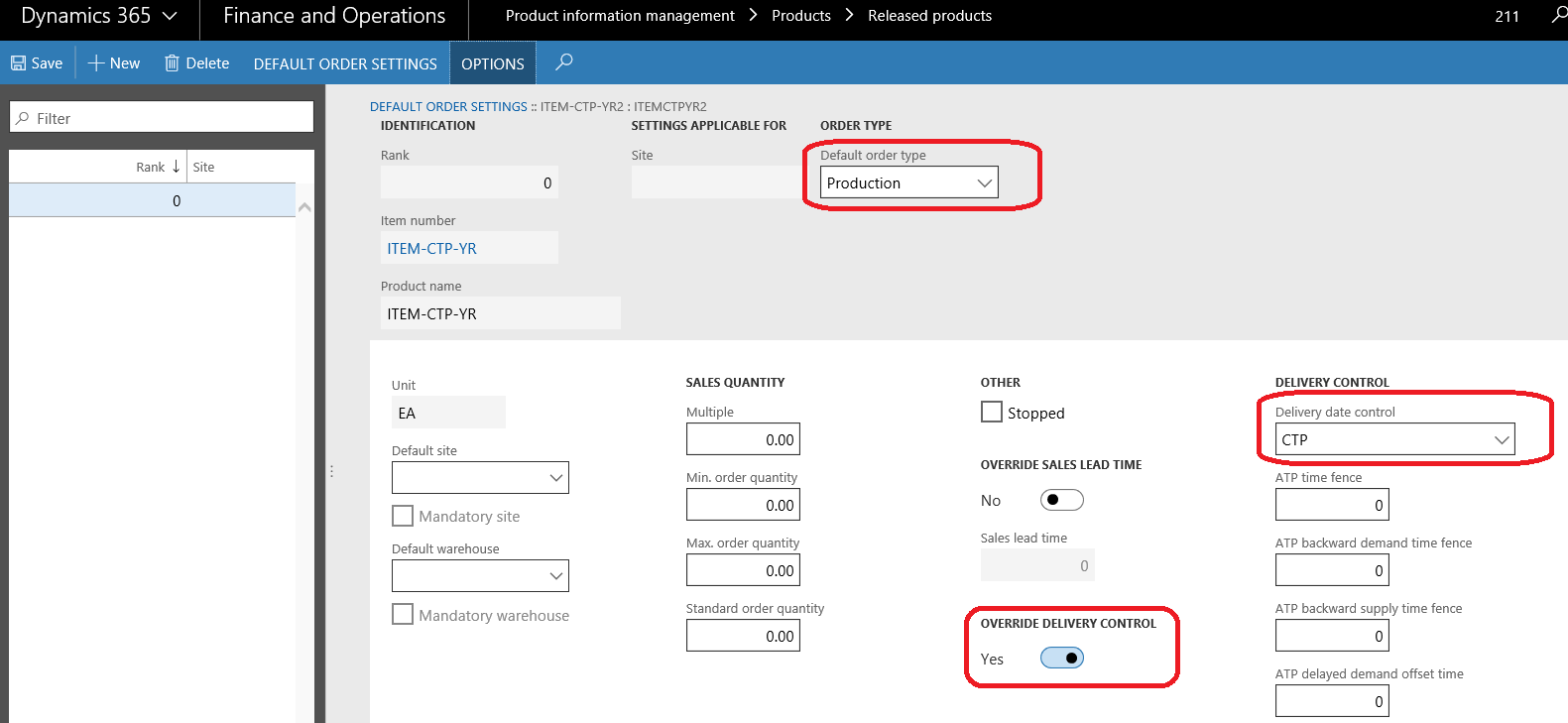 Obviously, one BOM version needs to be approved and activated (that implies the component items have already been created).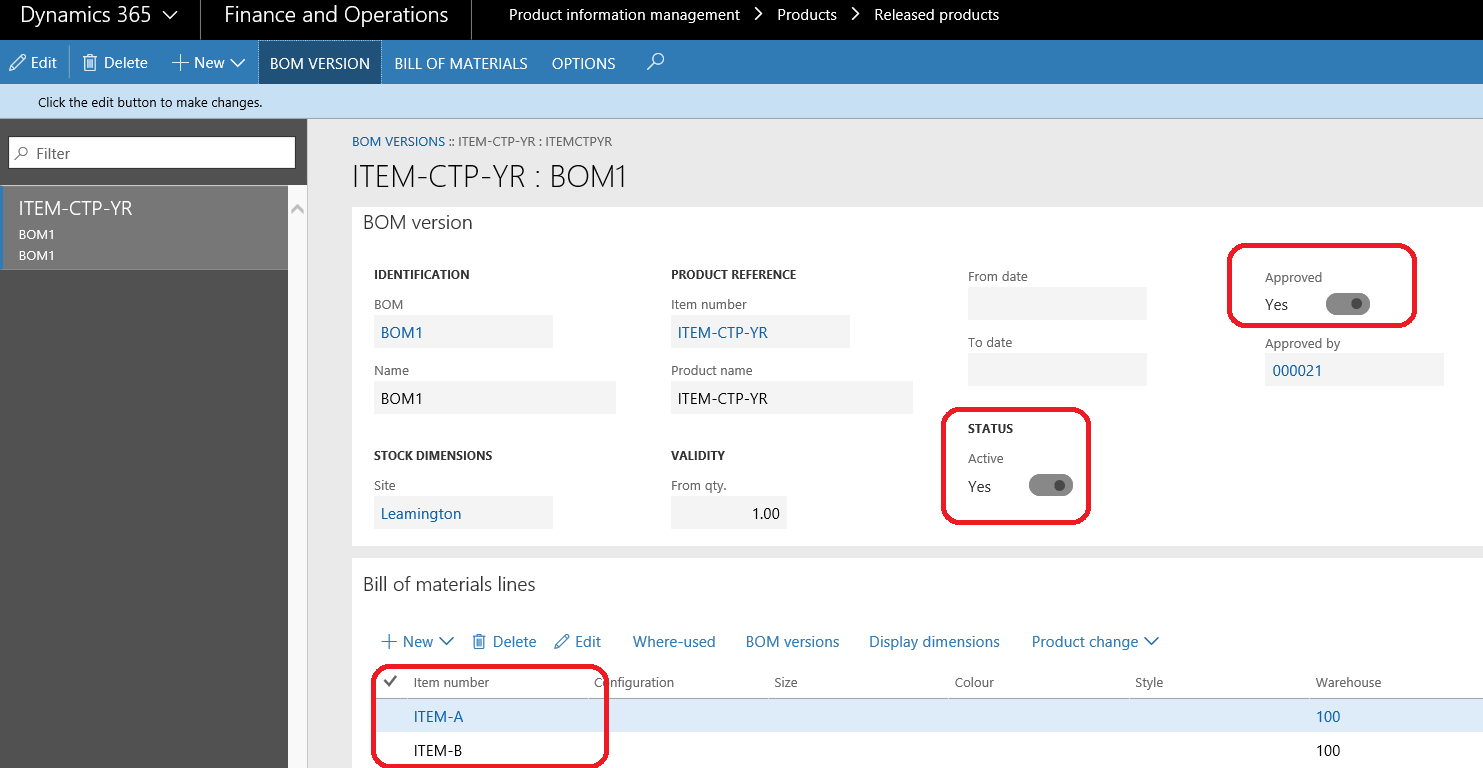 Let's setup the route, and choose the previous resource setup on the Resource requirements tab. You may setup a Run time of 40 hours for instance.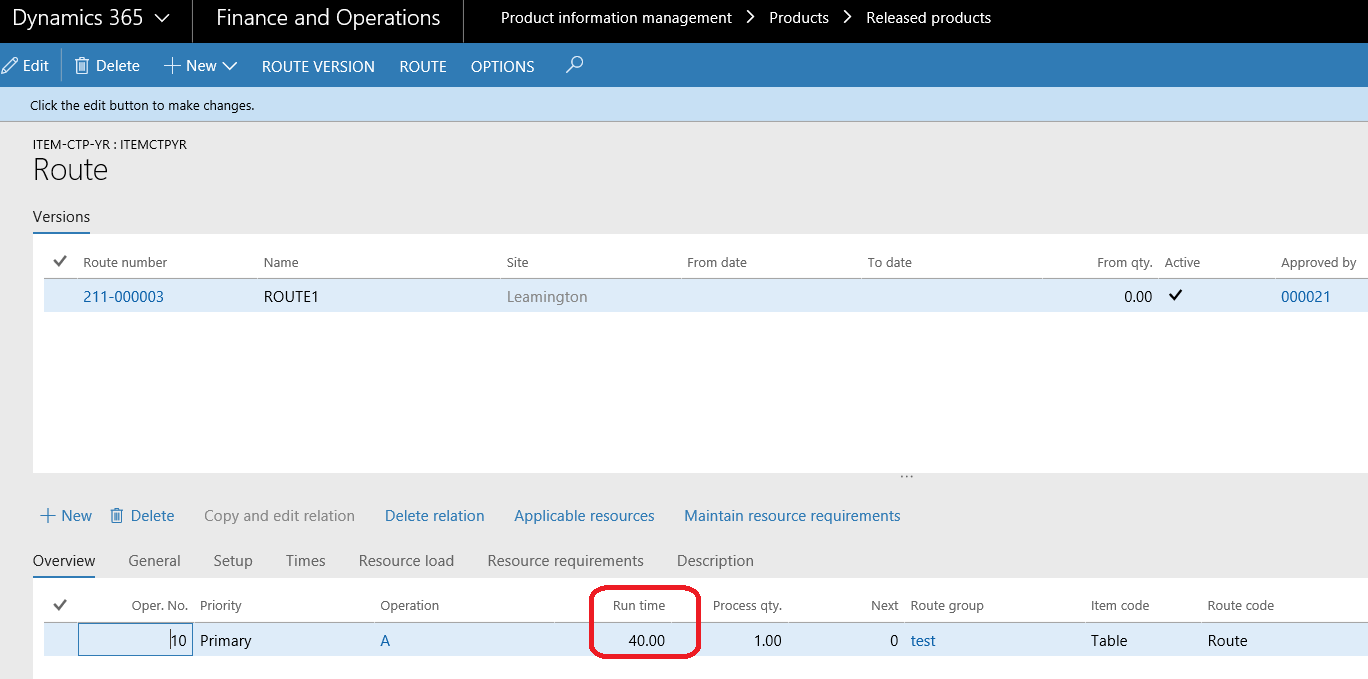 Check the feasibility and approve and activate the Route. If it's not feasible, check your setup again and correct the Route.

Process
It's time to demo this. First, we check what we have currently on-hand, meaning 10 for the manufactured item ITEM-CTP-YR.

Then, I initialize a sales order for 5 ITEM-CTP-YR. Today it's April the 23rd (Monday).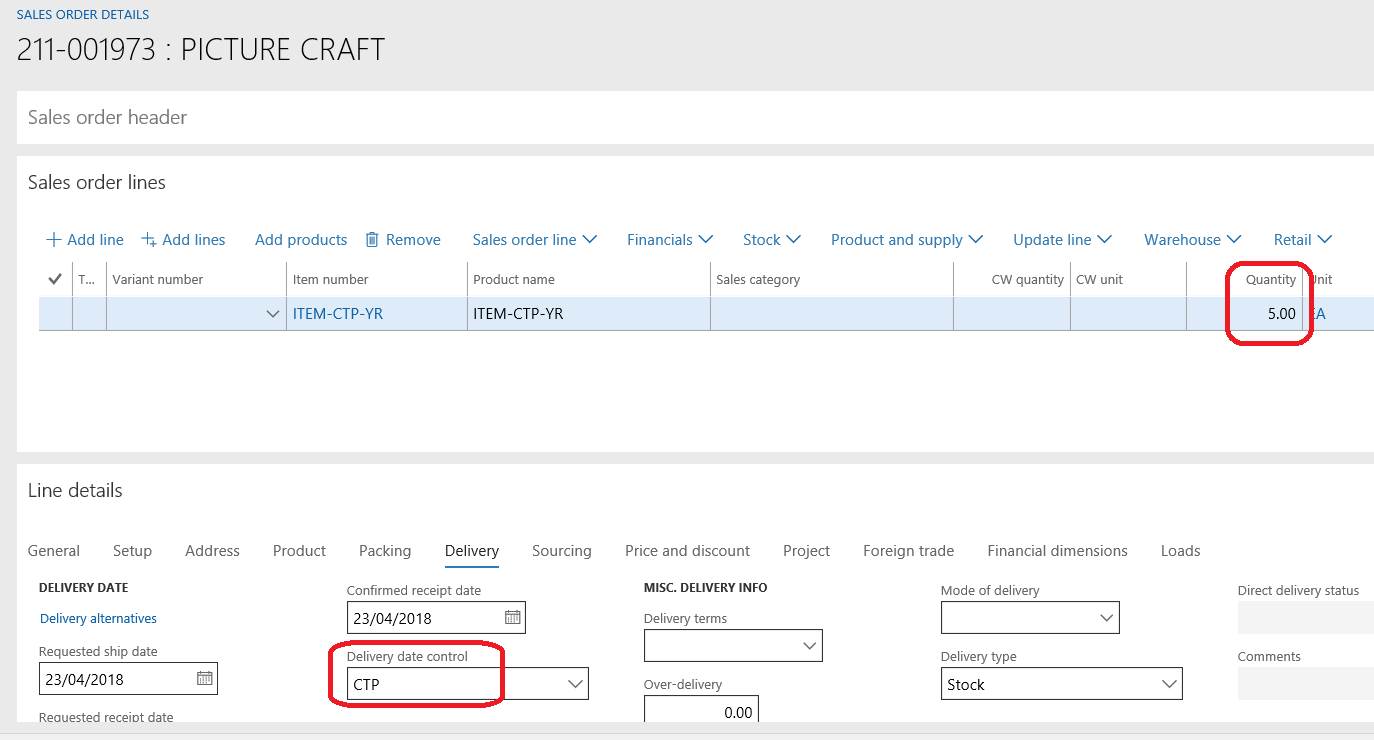 I have enough on-hand stock, so I won't have issue for shipping today. If I click on Simulate delivery dates, you can see every date are available.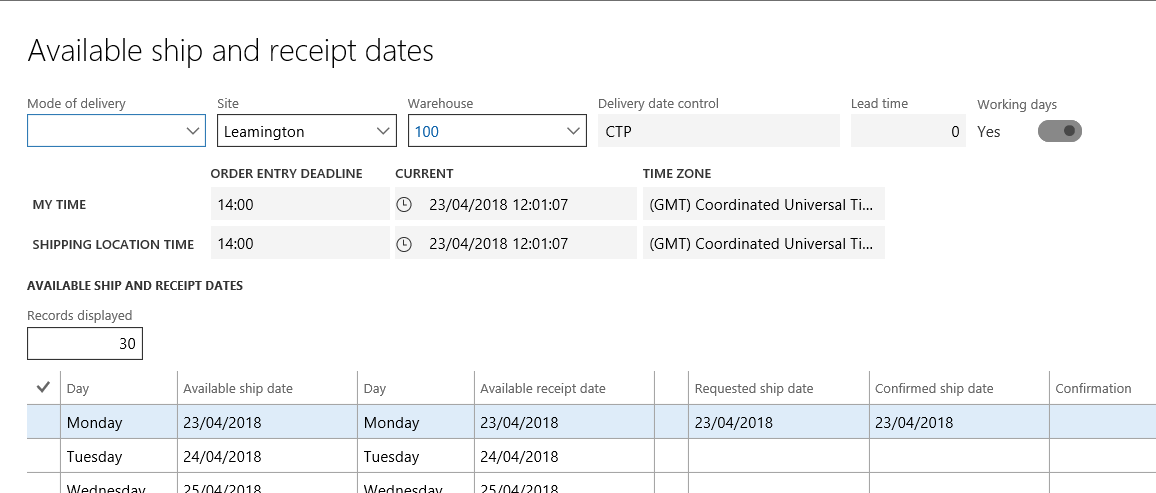 No if I change the quantity ordered to 11, one item needs to be manufactured. As it takes 40 hours and a resource works 7,5 hours per day, I will need 40 / 7.5 = 5.33  working days (> one working week). Here is the result, the first available date to ship the products is on Tuesday of the next week.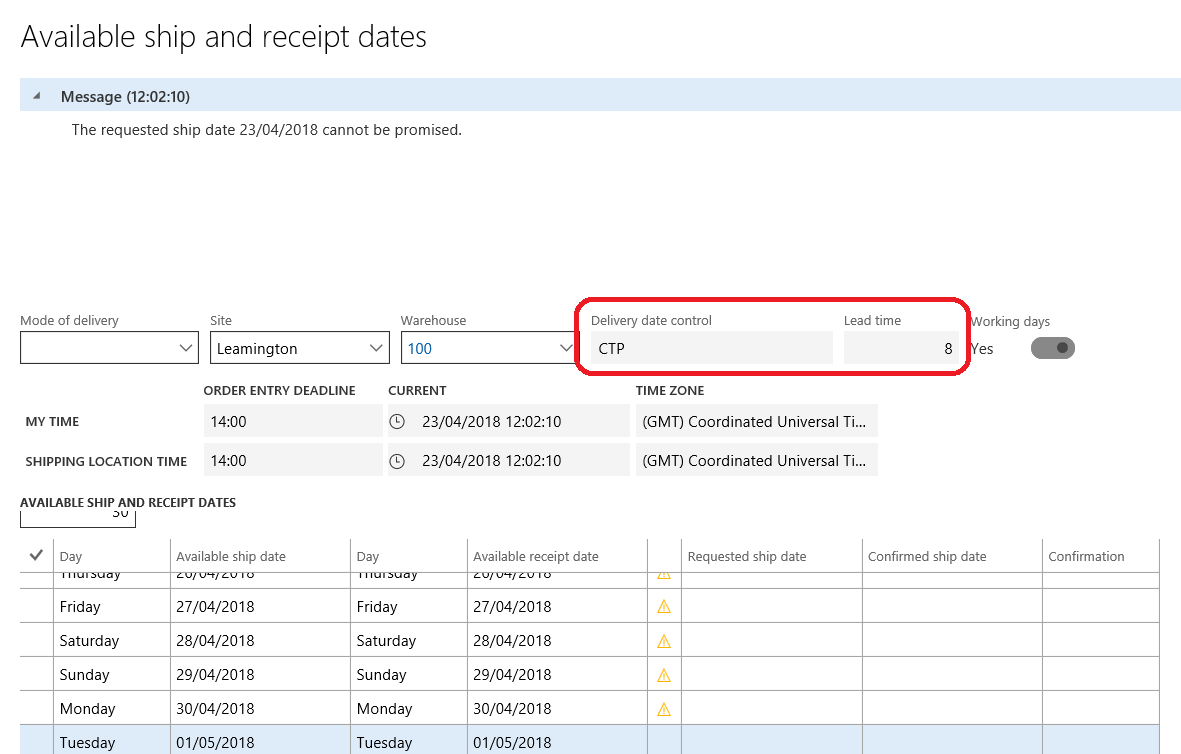 Don't forget we don't have any on-hand stock on components. If I add a 10 purchase lead time day for ITEM-A, and simulate for delivery date, what do I have now?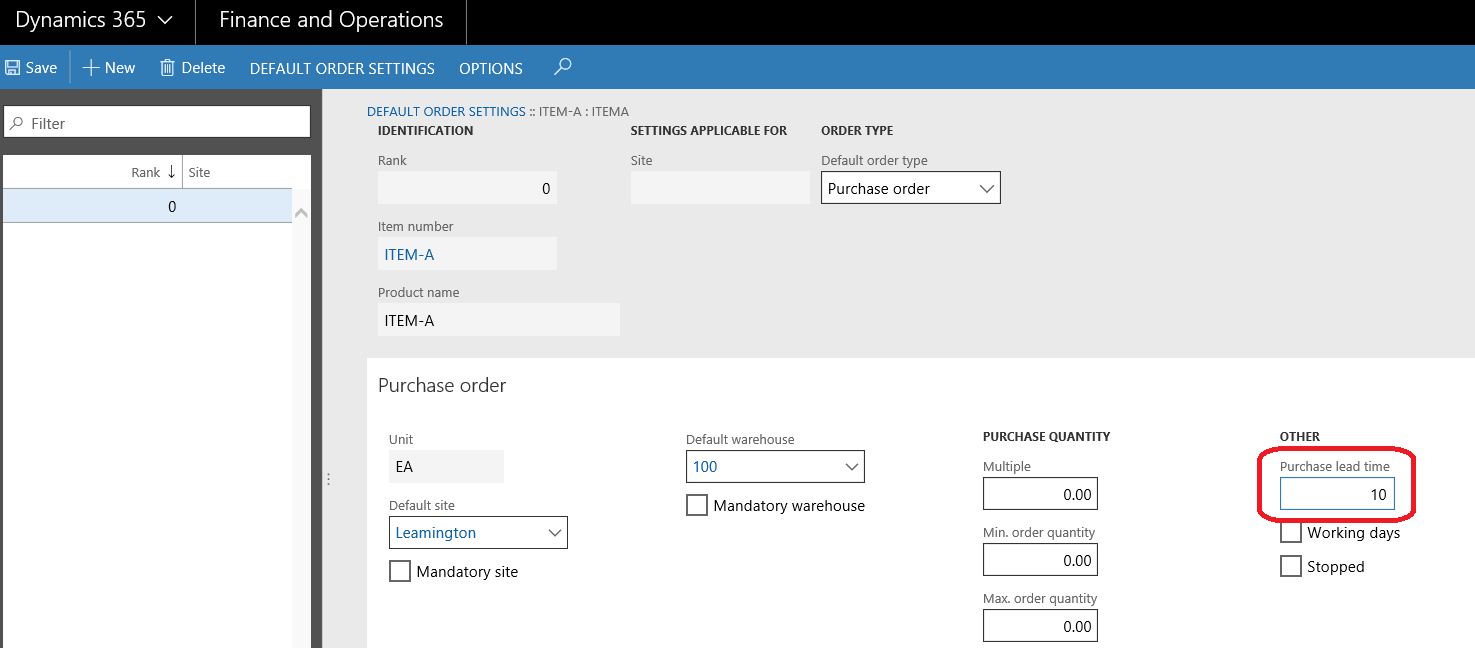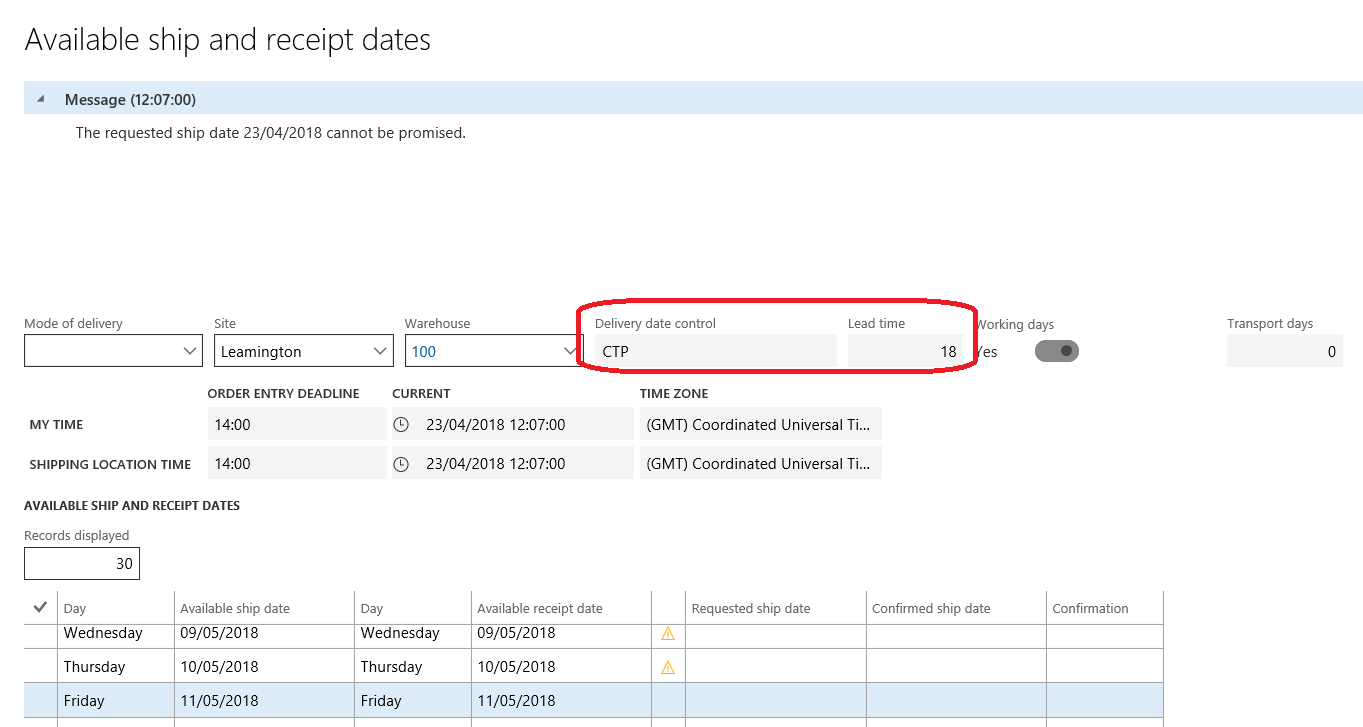 As you can see, I need to add 10 calendar days from today to procure my component. So it goes to the 3rd of May. Then, I need 5,33 additional working days so I cannot ship until the 11th of May (meaning 18 lead time days).
One important issue I had is about my second test, I couldn't achieve the result I wanted. This was because I needed to run at least one time the Master planning for every items concerned. Don't forget it.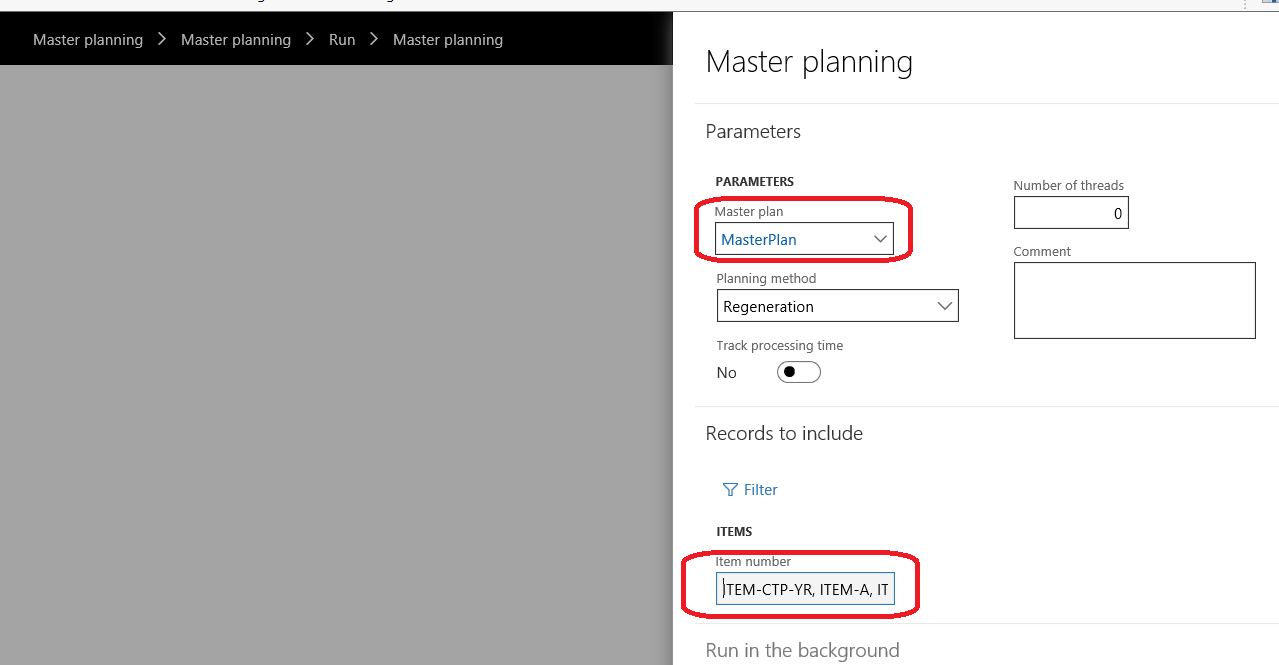 Yohann ROLLAND