Remember the old existing margin Alert ? This feature too has been impacted thanks to Pricing management module. Let's say that all new and old pricing adjustement features have been taken into account for calculating margin, from off until on invoice discounts and rebates. Let's see that through an example.
But at first, if you wish to have a look at the whole serie, you can click on the following links :
Required setup
For testing it properly, I have to launch a new item and setup a standard cost (for this purpose, it's more simple to use a standard cost but it's not mandatory).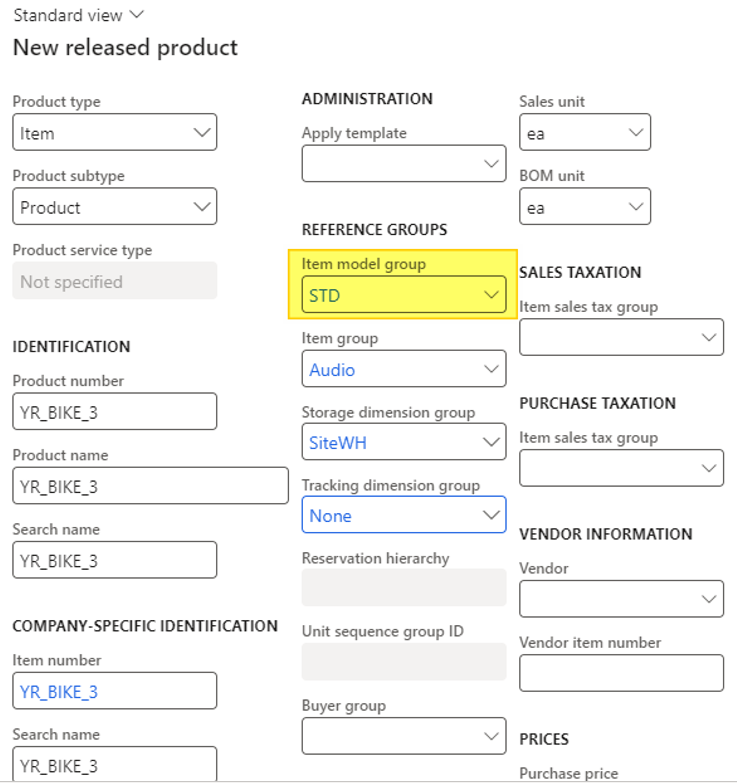 Then, I'm setting up a standard cost to 80 USD, using the old Manage cost tab from the item record. Remember that standard item cost function exists within the Pricing Management module without any link with any stock valuation. As margin alerts works with stock valuation, I have to use the old and active feature.

I'm setting the same product category and attributes as previous bikes so I can retrieve the new bike on the existing discounts.
Then, I'm enabling the margin alert from the Accounts receivable parameters.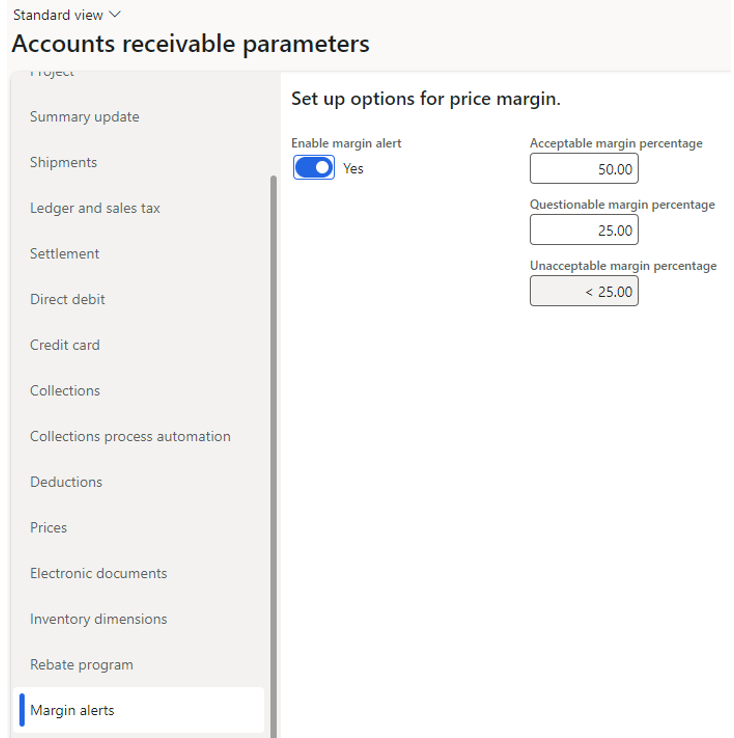 Estimated margin with discounts and rebate
For testing it, I'm creating a new sales order, and save it after having added the new bike item.

As you can see, the margin is calculated to -52.67% and the price details from raises the discount applicable under the Net amount tab : ST100025 for 10% and ST100075 for 25%.

But what's interesting is that the accrual for rebate calculation are taken into account at that stage too for an amount of 1.60 USD.

The explanation is the following:
Base price of 80 USD minus 26 USD of On invoice discount (ST100025 for 8 USD and ST100075 for 18 USD) calculating a price of 54 USD. Adding the 1.6 USD of Off invoice discount make a price of 52.4 USD.
Margin value = (1 –  (Cost price / Net sales price)) * 100 = (1 – (80 / 52.4)) * 100  = -52.67 %
That's good to know how the margin takes into account rebate amount accrual.
Existing margin limitation
Another test to run is to see if there is any accrual when the threshold of rebate is not reached on a dedicated sales order.
Let's copy the existing rebate (and desactivate the previous one).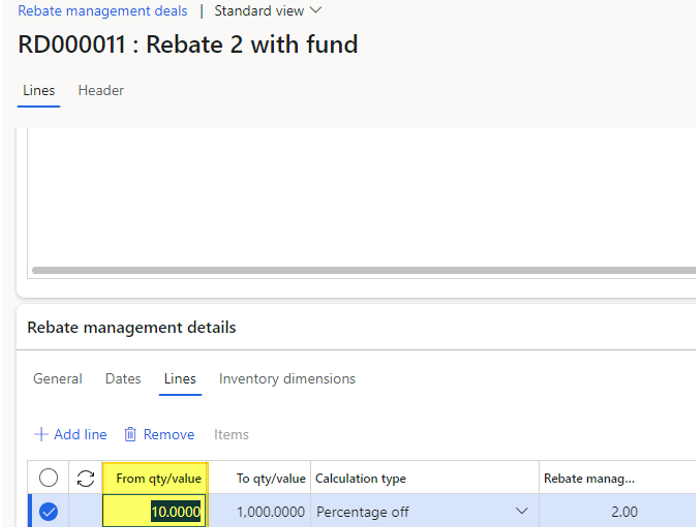 The "From qty" is now up to 10 for making the off invoice eligible.
By creating a sales order, the estimated margin calculated is up to -48.15 %

Margin value = (1 –  (Cost price / Net sales price)) * 100 = (1 – (80 / 54)) * 100  = -48.15 %
So the off invoice in note considered here.
Now, I'm adding another sales order for a quantity of 9 to reach the minimum required for the rebate.
Then, processing the rebate management :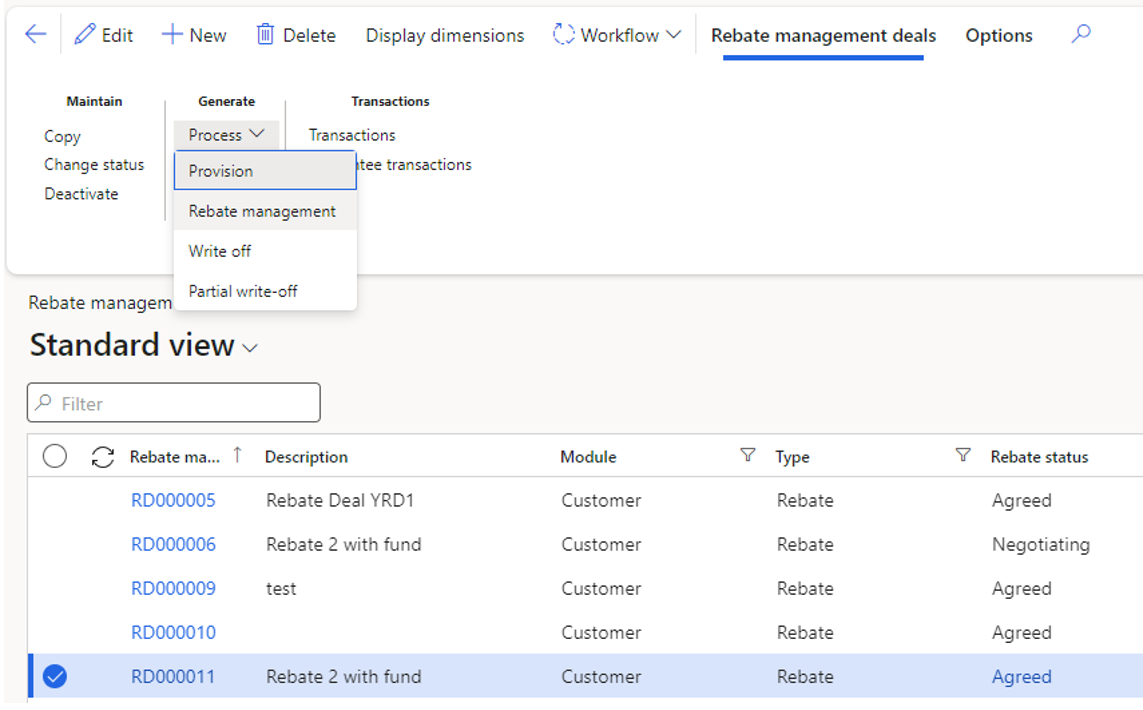 See the Transactions :

Rebate management amount has been provided on both orders.
By running the recalculate price option from the Pricing management module, let's see if the sales orders have been impacted by any margin calculation adjustment.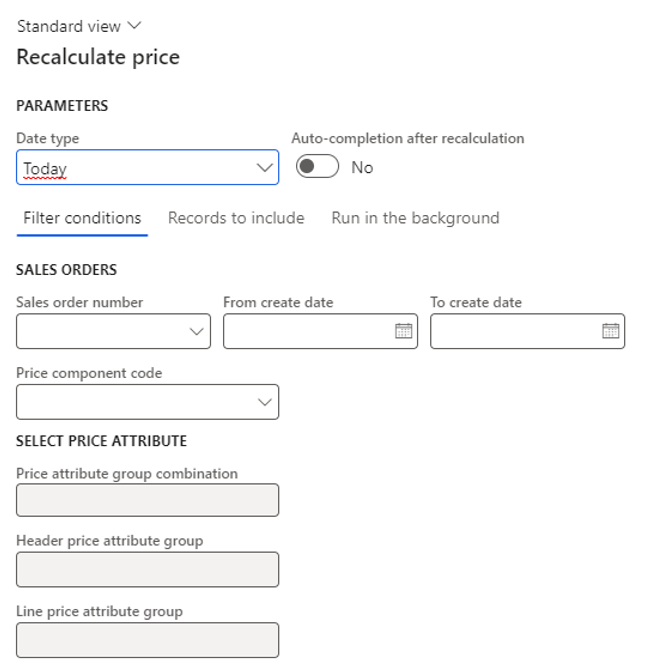 Well unfortunately not. Another option is available is the Recalculate line margins.

The margin still remains at -48,15%.
Maybe I've missed something, but this is the main limitation I've found. I'm wondering what the Recalculate line margins button does exactly. This limitation is more related to the margin functionality than Pricing management module actually.
Yohann