This new serie of posts are a quick and first approach of this new trade module available in public since Apr 16, 2021.
You will find some microsoft documentation here and here.
After activating the functionality, the module is available :

Have a look on it :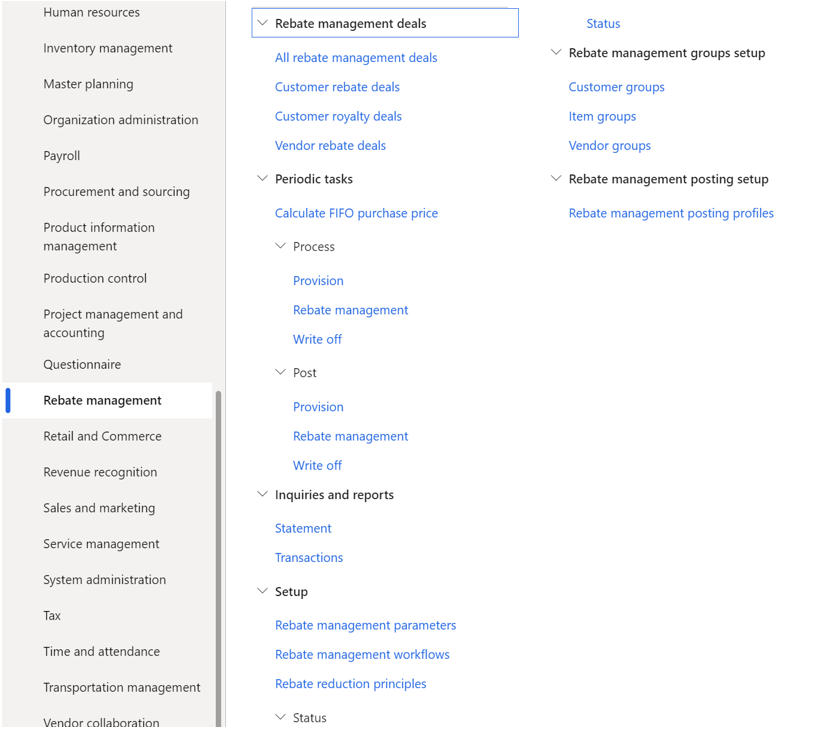 Not so much menu item, quite easy to use. We may have expected one workspace dedicated but there is not.
This module is address to Sales and Buyers, for managing back rebate.
Pay attention, there is 2 ways to manage back rebate for purchases (from procurement and sourcing > Vendor rebate and from Rebate Management).
For sales, now there is 3 ways :
From Sales and marketing > Customer rebates (old functionalitie, < 2014)
From Sales and marketing > Trade allowances (2014 functionalitie from AX 2012)
From the new Rebate management.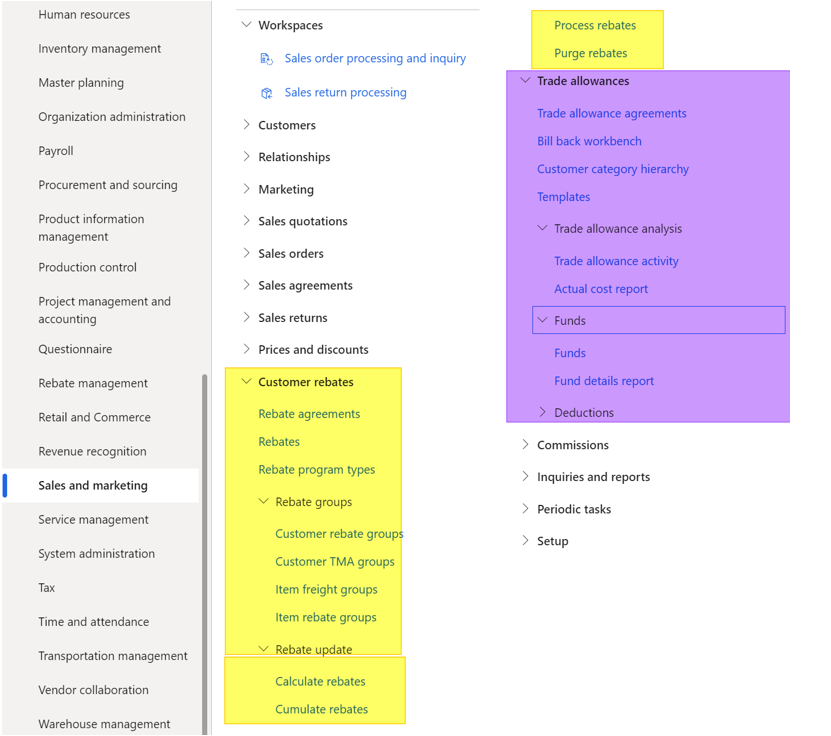 For sure, you have to choose one method and focus on it, otherwise the maintenance of back rebate will be quite difficult to do. Usually, it's advised to use the newest function.
If I'm comparing Trade Allowance management and Rebate management for customer I can see this SWOT :
Trade Allowance management :
Pro :
Lump sum management
Customer hierarchy management (not very powerful but available)
Usage of fund (never used it but still)
Possibility to use deduction when existing gaps
Cons :
Retroactivity application of the deal
Accouting transaction posted not always relevant
Not a real workflow available
Usage of analysis function hardly workable
Rebate management :
Pro :
Retroactivity applicable
Workflow out of the box
Same module for purchases/sales
Calculation of purchase back rebates based on sales and item costs
Possibilty to use a new order with specific item for managing the discount instead of a accounting posting
Different calculation methods available (Cumulative, Rolling, Total, or Stepped).
Various option for cumulate rebate thanks to reduction principle
Will be improved in the next releases
Cons :
Usage of goups (items/customers/vendors) instead of category nodes
Possibility to use the old Trade Allowance management deduction when existing gaps, implies to setup the old Trade Allowance management module
Let's go dive this.
How to setup a Customer deal ?
I'm gonna use the customer CUSTYRD1 and product PRDYRD1. I've setup a basic trade agreement for a price of 100 USD and a discount of 10%.
Then I can organize my customers and products in a perspective to use them in rebate deals, as you can see here.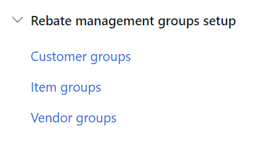 Then, creating groups and adding customers is possible.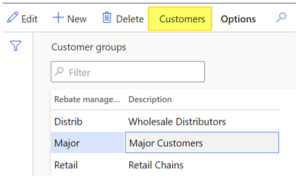 From a customer, in the Rebate management section, I have retrieved the group allocation (possibily to manage it from there).

Now, let's go to setup of a rebate management deal from Rebate Management > Rebate management deals > All rebate management deals

Pretty much all of it is here. I will setup a deal, and then process it from the ribbon in the Generate section.
One important thing to have setup before starting, is the Rebate management posting profile available from Rebate management > Setup > Rebate management posting setup > Rebate management posting profiles.
For each type of process (Provision / Rebate Management or Write Off), I can setup the associated journal and transactions. In addition, we will specify the applicable legal entity. We can have one per customer / vendor or group.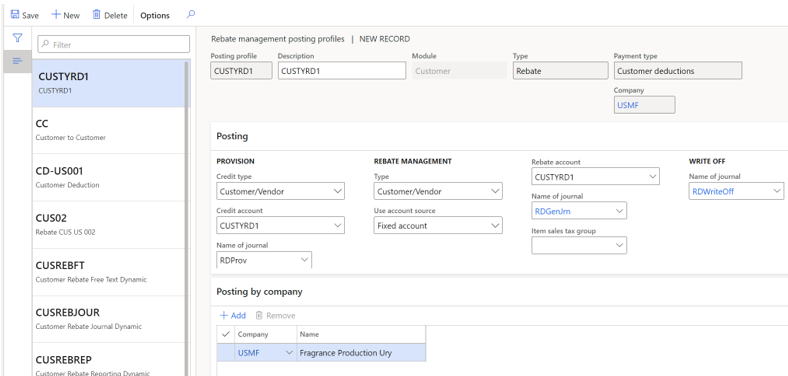 Let's create a new rebate deal.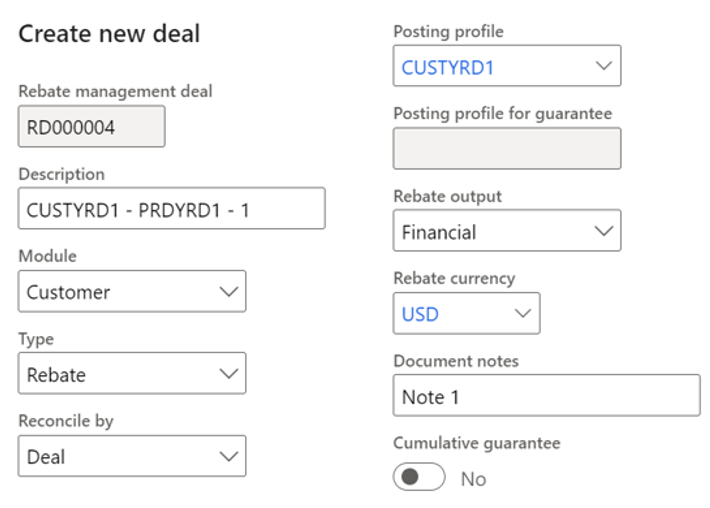 See the field details explained here.
After creating the deal, we setup the line agreement. Here we add the customer / item code or group on which the deal will apply.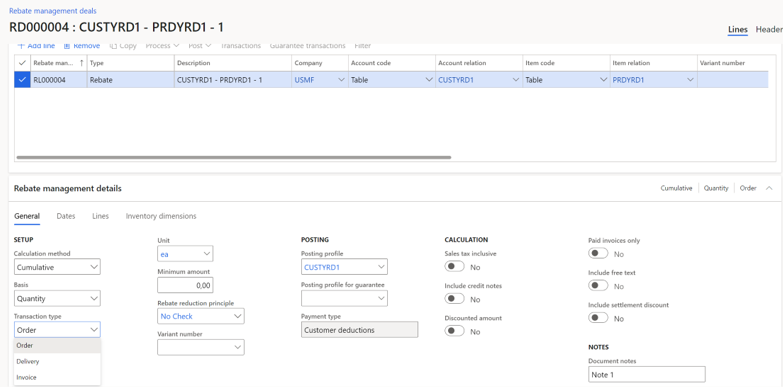 In the Rebate management details, we specify the Calculation method (Cumulative, Rolling, Total, or Stepped).
Also, the transaction type is important : it will take into account orders only created, or delivered, or invoiced.
The Basis is for calculating the rebate from the quantity or total amount of the line.
The Reduction principle setup is like a « find next » for Trade Agreements but go in much more details and options. In addition, it's well explained in the documentation.
Other setting are also available such as the minimum amount or the unit.
In the Dates sections, we specify the application date range and the cumulate by value (Month, Week, and so on).

In the Lines tab, we add the from / to quantity to reach the discount.
It could be a value or quantity depending on the Basis value chosen in the General tab.
The Rebate could be a percentage, a fixed amount per unit (Rate) or a fixed amount regardless the quantity (Fixed).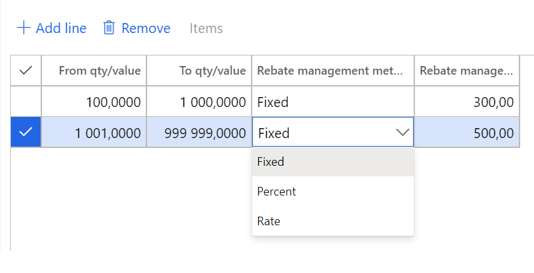 I've put a max limit to 999 999 but actually I could have let it empty as it works. Empty means no limits.
After this, it's time to send the deal for approval. A standard D365FO workflow is available and mandatory here. Under 100, nothing happens.

After the workflow approval, the approval status is Completed. There is also a Rebate status which is manually updatable and control nothing.

Now it's time to create the first sales orders. For a quantity of 90 :
If I'm processing the Rebate deal, nothing is generated (under transactions), as the threshold of 100 is not reached.

By creating a new sales orders with a quantity of 20 (now the threshold is reached), what do we have ?

By processing again, a transaction of 300 has been generated as expected.

The amount calculated is 300 as it is setup in the Rebate deal line.
Clic on source transaction to see the detail :

Her we can post in the GL, mark as claimed or unclaimed. Also it's possible to correct the claimed amount. In here I've put 9001 USD.
As you can see, the claimed amout has been updated. Now it's time to post the transaction.

The infolog tells us that one journal has been generated.
From the rebate form, open the Transaction form and then Target transactions.

From there, we can open the View details.

Then the lines :

Variant process : instead of processing Process > Rebate Management, we could have process Write off or Provision.
Here is the posting result of Provision ; the posting is different (see the Journal name RDPROV)

The accounting setup is done under the posting profil chosen on the deal.

In addition, here is the documentation of the process. Process, review, and post rebates – Supply Chain Management | Dynamics 365 | Microsoft Docs
Some workbench functionalities are not yet available in my test environnement but I'm confident there is more much to come in the next updates.
In the next posts, I will detail some alternative scenarios such as the usage of retroactivity, setup the rebate through an item and how it works with suppliers.
Yohann