Available since June 2022, Microsoft has released quite recently a learn training course regarding this new tool. It's quite interesting as you are able to run a trial environnent for 30 days so I had the opportunity to overview it.
Customers and prospects challenge us more and more every day on Corporate Social Responsibility (CSR – or RSE in French) and tool associating within the Microsoft platform to monitor the carbon impact of one company.
Objectives
Microsoft made the Microsoft Cloud for Sustainability comes effective thanks to Microsoft Sustainability Manager. The definition is the following : "Microsoft Sustainability Manager unifies data intelligence to help organizations monitor and manage their sustainability performance. Sustainability Manager delivers insights to help you accelerate every stage of your sustainability journey. This solution enables organizations to record, report, and reduce carbon emissions."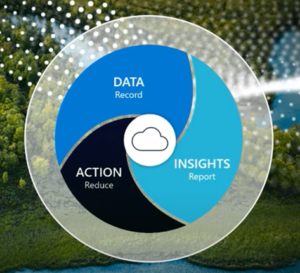 Reflecting the standard greenhouse gaz protocol (GHG Protocol), the module is based on Power Platform (Power BI dashboard, Power query,..) and build on a cloud for sustainability data model, focused to deliver appropriate KPI regarding the carbon emission in order to define reducing goals. According to the standards you will find 3 scopes of emissions:
Scope 1 : direct emission such as any vehicle
Scope 2 : indirect emission based on electricity, cooling, heat consumption
Scope 3 : all other indirect emissions (purchased goods and services, waste generated, business travels, end-of-life treatment of sold products, …)
Basic overview of this is to collect any data from field, operations and supply chain regarding carbon impact, consolidate and transform them thanks to calculation models and profils and give insights for reduction initiatives to be taken by the stakeholders.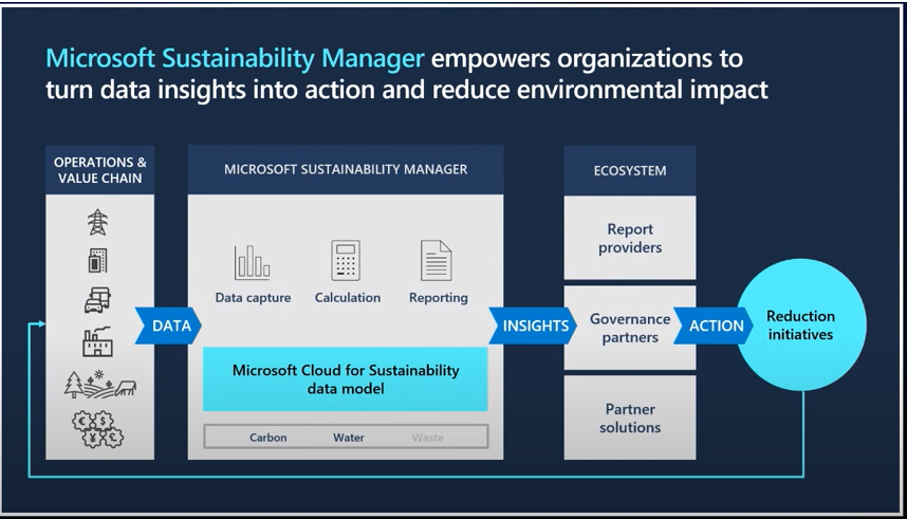 How it works ? What is the data flow process ? I will post a serie of blogs in the next days.
Master Data
First you need to setup your System data such as unit groups, company profile, report settings.
Also organization data is required : define hierarchies, units, countries, regions, industries, periods, facilities, methodologies, … Defining those attributes properly will helps you to monitor and consolidate with BI later on. It's the backbone of such a project.
Connecting Reference Data is mandatory (Vehicle types, transport modes, Materials, Facilities, Business travel types) as well.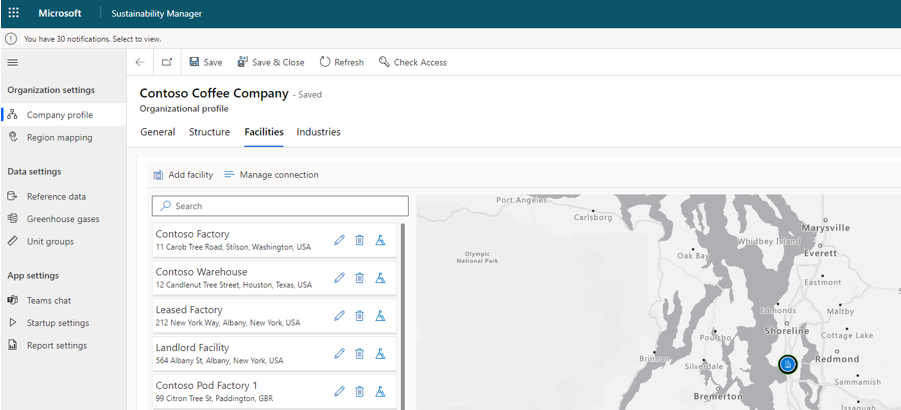 Data Ingestion and emission calculation
The richest part is Data Ingestion which is the source within the company that will generate emissions.
Activity data (scope 1, 2 or 3 emission typology) includes every source that can contribute to carbon emissions.  It's input data extracted from external systems within the company, such as electric Kwh consumption or fuel consumed…
You can connect those data thanks to the available Power Query connectors. Note that Dynamics connectors can be adressed by OData and available Data Entities. Those data are supported through the Dataverse.

Running calculation is also an important part in which you will use calculation models and profils, factor libraries (collection of estimation and emission factors) in order to convert the original unit consumption (kWh, Gallon of fuel, …) into one global unit of carbon consumption: mtCo2e (million ton of carbon dioxide equivalent) for the most famous one.
Those features are very important and we will dive a little bit in next posts to come.

There is also a nice looking view on calculation models making the conversion process explicit (and remaining of Power Automate).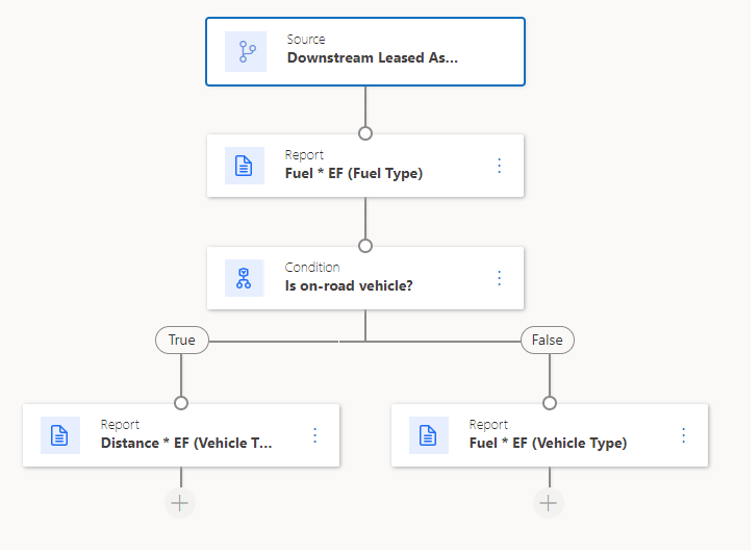 Reporting and analytics
Then it's about the data analysis part which is the more interesting part for the Sustainability Manager. You will find reports on the Insights page in which you will be able to follow every KPI regarding the scope 1/2/3 sorted by any organizational unit you want, reporting period…
Those Analytical data are available within Data lake, filling insights and scorecards resulting from periodic calculations.
The view below is a Power BI helping you to consult the carbon impact of the company after having calculated and transformed the Activity Data.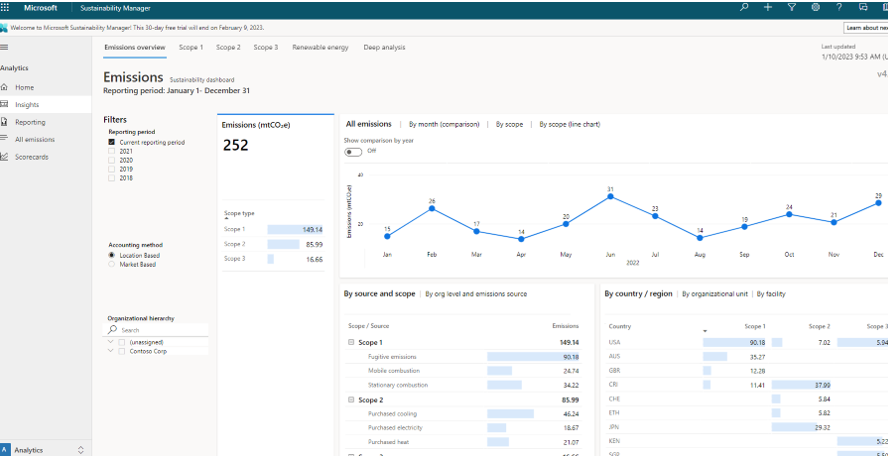 Also Deep analysis allows you to drill down from Total emissions to a detail approach. This illustrates how it's important to convert all sources into one unique unit.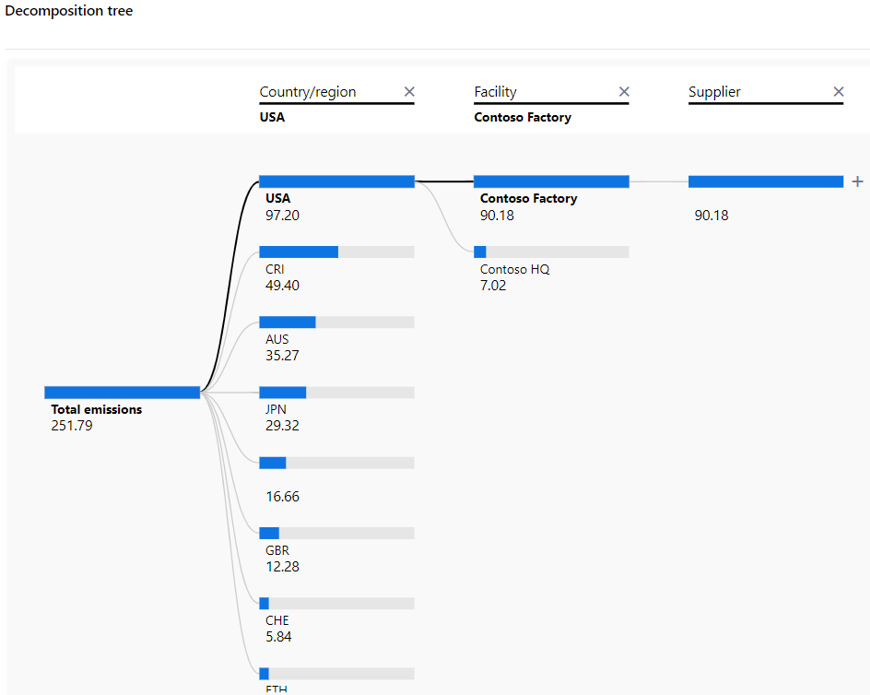 In here it's obvious the Contoso Company has to focus the CO2 impacts on the Contoso Factory.
There is a reporting section available on which you can setup and export some data. On demand you can define new ones.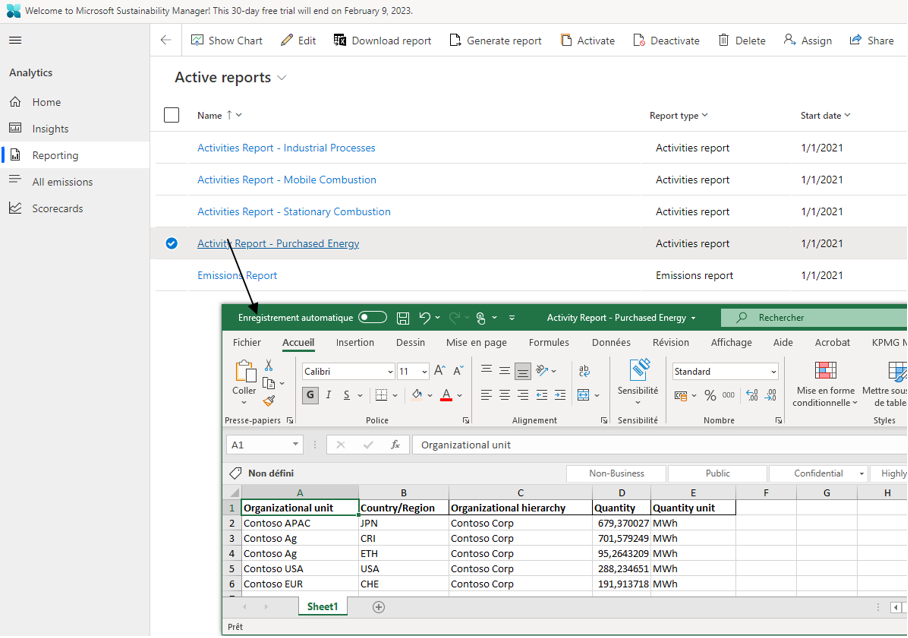 Reducing emission
Finally, using scorecards and goals is useful to define the net-zero emission on some activities for instance and to follow then with attention.

Those goals can be manually updated or thanks to connectors in a more dynamic way.

Costs
The SKU is "Microsoft Cloud for Sustainability (NCE)" and around 4000 € per month per tenant. Some saving are available by choosing a periodicity of one year reducing the cost up to 17%.
More information here.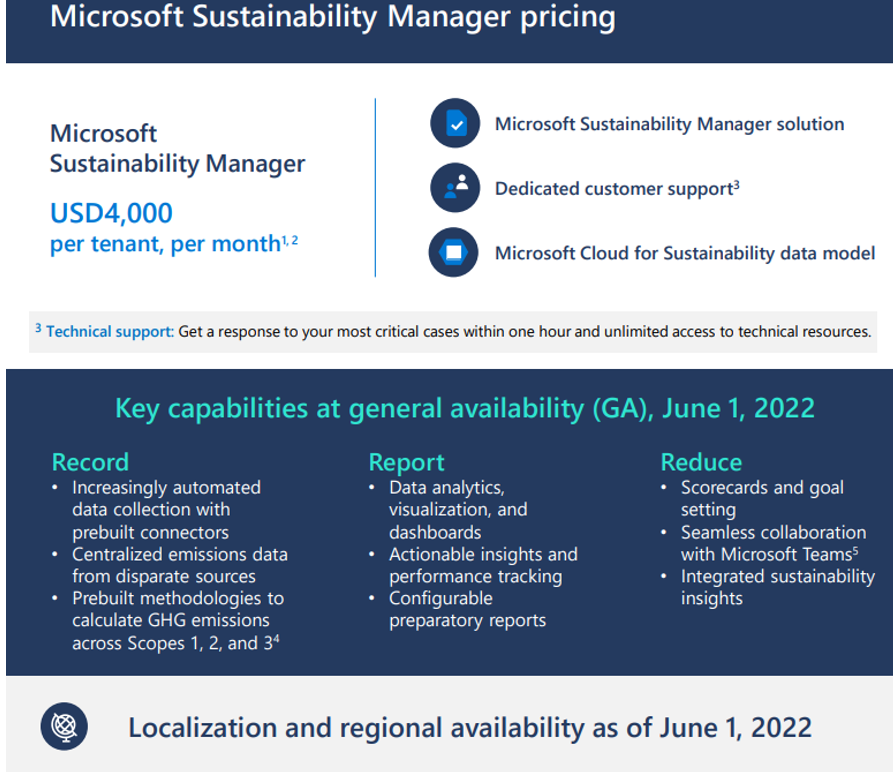 Conclusion
This new tool will help our customers to monitor their carbon impact and take initiatives to reduce them. Build on Power Platform component, this will be easily embedded within a Dynamics 365 Information system. Bridges can be made between D365, other software and any energy tracking systems. Some work has to be done to setup Sustainability Manager properly but this can be build piece after piece.
The tricky part remains on data calculation, we will see this features later on. Here is a schema to sum up the different steps of setting up Sustainability Manager.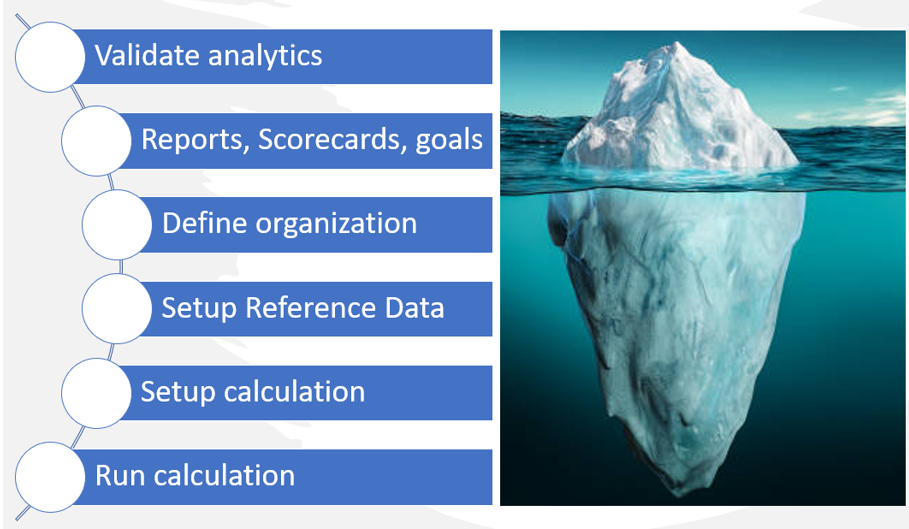 Yohann
Additional source :
Vue d'ensemble Gestionnaire de la durabilité Microsoft | Microsoft Learn
Get started with Microsoft Cloud for Sustainability – Training | Microsoft Learn